Create blog post
Latest Blog Posts
How exactly did all of these themes and situations get approved by a television studio? Stuff like breast expansion, periods, divorce, infidelity, cu…

Read more >
See more >
Latest Activity
Clean Slate
edited by RoseGirlXS
Belinda Lightburn
edited by Josephruggiero245
User:Lil Kama
edited by Lil Kama

| | |
| --- | --- |
| Added photo: | |

Introduction

Is your user page empty?Click on your user name at the top of the screen to see.Click "Edit" to add some information about yourself!

earned the Introduction badge
Awarded for adding to your own user page!

Cody
edited by Lil Kama

| | |
| --- | --- |
| Summary: | I did it!!! Cody can now be seen by the world. His infobox is now by title instead of by info. |
| Added photo: | |

Cody
edited by Lil Kama

Making Your Mark

Is something missing? Is there a mistake? Don't be shy.
Click the edit button and
you can add to any page!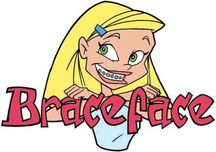 Welcome to Braceface Wiki!
Braceface Wiki is a collaborative wiki about the Canadian cartoon, Braceface,
written from an In-Universe "this was 'real'" perspective.
Anyone can edit, and you are absolutely welcome to join us.
Character
Braceface
Featuring Alicia Silverstone as the voice of Sharon Spitz, Braceface is an award winning half-hour animated comedy chronicling the perils of adolescence. Sharon also finds herself dealing with mysterious and embarrassing mishaps caused by her new braces. No one ever said that growing up is easy, and no one is learning this faster than Sharon Spitz. Despite everything that comes her way Sharon is still smiling…even if it is with a tin grin!
Episode Links
---
Teletoon Original Productions