Mr Silly



Gender:

Male

Age:

Unknown

Hair color:

Grey

Eye color:

Blue

Relatives:

Dion (nephew)

Love Interests:

Unknown

Friends:

Enemies:

Unknown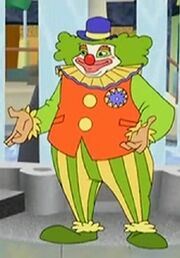 ---
Mr Silly is Dion's uncle.
When he needed a new assistant, Sharon took the job because she needed money to resume her ballet lessons.
Trivia
Due to advancing age, he has trouble getting upright if he bends over, he has a bad back. He was hospitilized once for treatment relating to this problem.[1]
References
Ad blocker interference detected!
Wikia is a free-to-use site that makes money from advertising. We have a modified experience for viewers using ad blockers

Wikia is not accessible if you've made further modifications. Remove the custom ad blocker rule(s) and the page will load as expected.